Let me be transparent about something. I can't remember a busier summer for announcements related to corporate sustainability initiatives. I'm not complaining, I'm encouraged.
That is why it has taken me more than two months to process what I'd like to say about an intriguing development I heard about in June: Logitech International's intention to add "carbon impact" statements to all of its peripherals products starting this summer.
The Swiss maker of mouses (sorry, mice just doesn't sound right to me!), webcams, keyboards, speakers and so forth is positioning the label as kind of like the calorie count indicator you find on food. Only this one measures environmental impacts such as energy consumption, the amount of plastics content, and other materials information that provides a sense of its impact, according to Prakash Arunkundrum, head of global operations for Logitech.
"We are talking about the footprint of everything from manufacturing to distribution," he told me when we chatted in June, in response to my question about the motivation for this effort.
The metrics that Logitech will use to communicate this information have been under development for close to a decade as the company redesigns its products with sustainability in mind, Arunkundrum said. You just haven't really heard about them because Logitech has been pretty low-key about it. The company is working with third parties including Natural Capital Partners, iPoint Group and an independent verification firm to help prepare the life-cycle analysis and claims.
The guidepost for what Logitech will report is based on a certification used in Europe developed by Dekra, a 95-year-old firm that specializes in product testing and safety.
Logitech also plans to share its methodology with other companies so that they can use it for their own on-package impact statements, Arunkundrum said.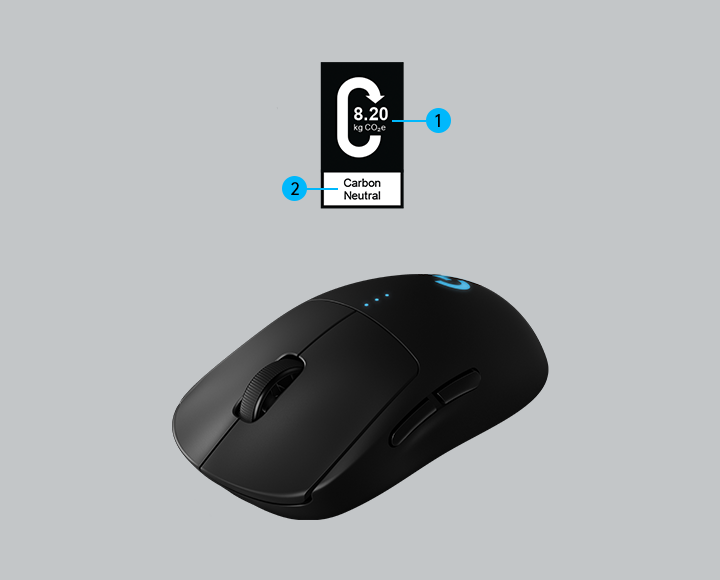 If you peek at the graphic with this post, you'll see what the label will look like — it's the big C (for carbon neutral or climate, you get the idea). The note below tells you whether or not the product is carbon neutral, in other words whether or not Logitech has made investments that offset the impact of sourcing, manufacturing and distributing the product in question. It will also report the grams of carbon dioxide equivalent that were required to produce the device.
The rating will appear first on the gaming gadgets that Logitech sells, and then on a phased basis beyond that, with all products labeled by the 2025 timeframe.
Logitech is certified CarbonNeutral. It makes that claim based on specific investments in its operations such as sourcing renewable energy, designing post-consumer recycled plastics back into its products or dramatically reducing the power required by its technology. It hasn't managed to make all of those things entirely neutral, yet, so it's buying credits linked to projects that help offset carbon emissions to cover the rest of its footprint.
Generally speaking, examples of carbon offset projects that companies include to mitigate their impact include reforestation initiatives or renewable energy development. In China, for example, Arunkundrum said Logitech is facilitating efforts to develop an offshore wind farm.
Will other consumer electronics companies follow Logitech's lead? My guess is that the sales story will lead the way. If Logitech can generate revenue using its new carbon labeling approach — and demonstrate that's the reason — its rivals will surely take note.