Last year, I started a wacky elimination diet to address a health issue — successfully I might add. Before that date, I'll be honest: I didn't pay a whole lot of attention to food labels. Things are different now.
There's one label that has my particular attention as the east coast flirts with autumn weather, although chances are you haven't encountered it yet: "regenerative organic."
As you might suspect, this descriptor goes above and beyond the "organic" growing standards supported by the U.S. Department of Agriculture and the Fair Trade movement. It's meant to designate products grown not just using guidelines for organic cultivation but also for regenerative agricultural practices that act as a natural carbon sequestration solution and mitigate the effects of climate change — methods such as minimal or no-till cultivation, composting and planting cover crops. The certification was introduced in 2018 by the Regenerative Organic Alliance (ROC), led by Rodale Institute. Farms must hold organic certification before trying for this next level of recognition.
As you might suspect or expect, many of the techniques associated with organic farming are already regenerative. This is another way to recognize organizations that are going above and beyond.
One well-known company that's taking the plunge into this relatively unchartered territory is Dr. Bronner's, the well-known soap company and one of the lead companies in ROC along with Patagonia.
This summer, the company debuted its first product to bear the regenerative organic label, a series of coconut oils that are intended for baking or for hair care. (Yes, you can use it for either.) The 14-ounce version is $11.99, and the 30-ounce jar is priced at $21.99.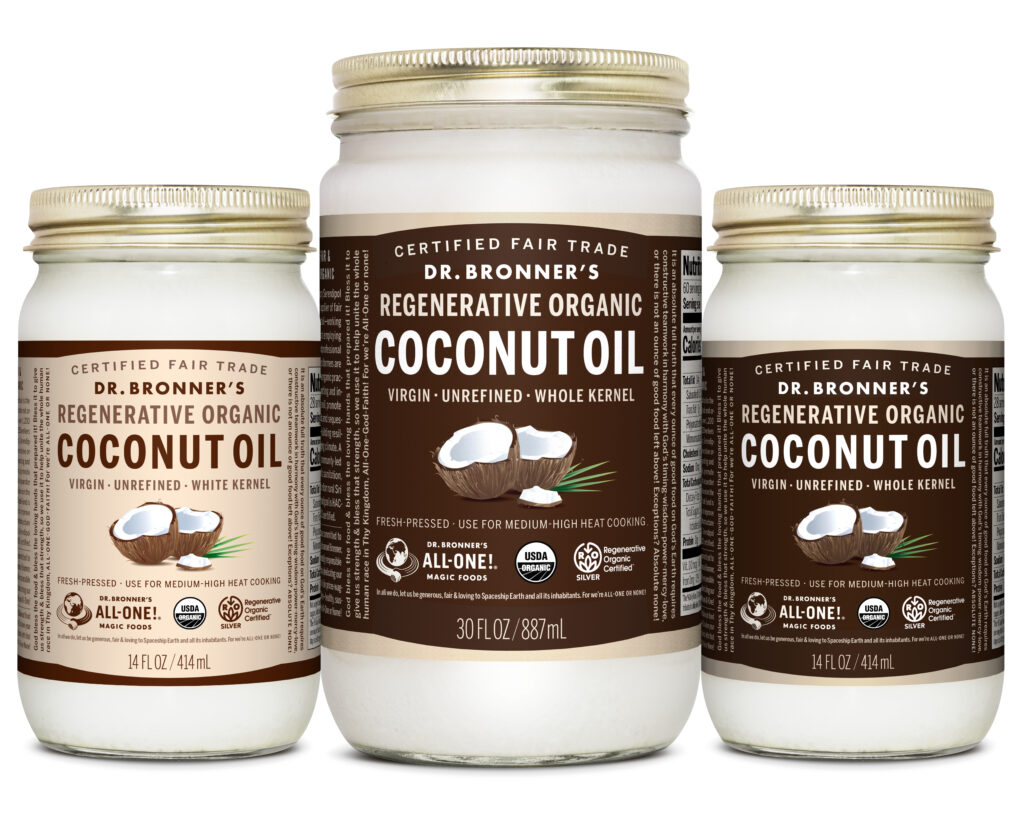 Dr. Bronner's is also piloting the standards for two other ingredients: mint oil from India and palm oil in Ghana.
While there aren't a lot of products that qualify for the regenerative organic label, that's about to change. In late August, ROC officially announced that a number of companies are preparing to move forward with the official certification, which has three levels (bronze, silver or gold).
Patagonia has dedicated a whole section to the concept on its PatagoniaProvisions.com website, and these brands are early adopters:
Apricot Lane Farms – Avocado oil (Moorpark, California)
Nature's Path – Oats (Saskatchewan, Canada)
Grain Place Foods – Popcorn and cornmeal (Marquette, Nebraska)
Lotus Foods – Rich (Rohini, India)
Sol Simple – Bananda (Masaya, Nicaragua)
Tablas Creek Vineyards (Paso Robles, California)
Herb Pharm (Williams, Oregon)
Guayaki Yerba Mate (Misiones, Argentina)