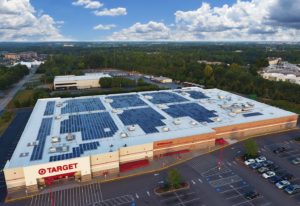 It probably won't surprise you to discover that many of the companies investing in on-site solar technology—rather than waiting around for their local utility to start selling clean power—are either retailers or real estate investment firms. The Solar Energy Industries Association keeps tabs on this with an annual ranking.
Most of the names on that list are pretty familiar, such as Target (No. 1) and Walmart (a close No. 2). Others, not so much.
Over the past several months, I've interviewed two of those "others" — industrial warehouse giant Prologis, which is third on the list (its total capacity is now smaller than when I wrote my story), and luxury mall operator General Growth Properties (GGP), which is ninth.
One thing that struck me most about my chat with GGP was the simple fact that it was the chief operating officer who handled the interview. Believe me, these investments were considered carefully — right now about 20 of the company's malls sport solar panels, and another 30 projects or so are in the pipeline.
The states where they are located are diverse: although the company began experimenting first in New Jersey and Hawaii, mainly because that's where the financial case was strongest to begin.
Every single one of them is metered carefully, using software that keeps tabs on electricity consumption down to the outlet. For me, this intention to detail is another indication that many of the investments that businesses are making in solar and wind energy are predicated as much on their economic practicality as they are driven by an interest in doing the right thing. Slowly but surely.